I have been a fan of hot cocoa for about as long as I can remember. 🙂 One of the best Christmas presents I got as a preteen was a box of hot cocoa mix packets and some fun books to read. (I've always been a bookworm.) And in this article, I want to share with you some of those that I feel are the best hot chocolate recipes or hot coco recipes around.
Over the years, I've tried a lot of different kinds of hot cocoa, and some of my favorites are the really rich and creamy hot cocoa and white chocolate hot cocoa recipes.
Tip: Save the image above to Pinterest so that you can easily refer to this article with the best hot cocoa recipes later!

The Best Hot Chocolate Recipes (Best Hot Cocoa Recipes)
Below I share some of my favorite hot cocoa recipes for delicious, rich and creamy hot cocoa that you will love! Whether you want to make just a single serving or enough to satisfy a crowd, you will find recipes below to fit every occasion.
Creamy hot cocoa recipes are my favorites because they are just so good!
I even include hot cocoa mix recipes that you can use to make simple and inexpensive Christmas gifts for family and friends! Check them out below! 👇


Mom's Hot Chocolate Mix
This recipe is from my mother-in-law, and it is one of my favorite homemade hot cocoa recipes that I have tried so far. It is easy to make and tastes great! It's great for making up a large batch of mix and then making individual servings quickly and easily on cold winter days.
Ingredients
10 2/3 cups powdered milk
32 ounces cocoa powder
11 ounces instant creamer
1 pound bag (16 ounces) powdered sugar
Directions
Mix all of the ingredients together in a large mixing bowl, and store in a large canister.
To serve: For each single serving, mix 1/3 cup mix with 1 cup hot water. (Adjust to taste.)

Creamy Hot Chocolate Recipe
This is another creamy hot chocolate recipe, perfect for when you're hosting a crowd for dinner, at a holiday party, or on other occasions.
Ingredients
1 cup cocoa powder
1 1/2 cup sugar
1/4 teaspoon salt
1 cup water
6 cups milk
1 teaspoon vanilla extract
Directions
Whisk together the cocoa powder, sugar, salt, and water in a large pot. Heat the mixture until it comes to a boil, stirring continually. Let it simmer for a couple of minutes, being careful to not let it scald.
Stir in the milk and vanilla, and heat until warmed through.
Serve with additional milk if desired.
White Chocolate Hot Cocoa
White chocolate hot cocoa is another of the best hot cocoa recipes. I love white hot cocoa mix, maybe even more than traditional hot cocoa. (That's a call that's too hard to make.) This is another recipe that is great for treating the whole family or guests.
Ingredients
4 cups of milk
1 tsp. vanilla extract
8 oz. white chocolate chips (or chopped white chocolate)
marshmallows or whipped cream (for serving)
Directions
Stir together milk, vanilla, and white chocolate chips in a medium saucepan.
Cook over medium heat, stirring occasionally, until it begins to simmer. (Do not boil.)
Serve topped with whipped cream, marshmallows, candy cane pieces, drizzled chocolate syrup, or other favorites.
Peppermint Hot Cocoa Recipe
For another fun twist on the tradition hot cocoa recipe, one of the best hot cocoa recipes is definitely peppermint hot cocoa. I love this recipe because it is simple to make and is great for making single servings.
Ingredients
2 cups cocoa powder
1 cup sugar
1 cup finely crushed peppermint candy canes or peppermint hard candies
DirectionsWhisk together all the ingredients and transfer to an airtight container.
To prepare hot chocolate:
Combine 1/4 cup of the hot chocolate mix and 1 cup of milk in a microwavable mug or small saucepan. Whisk to combine. Warm in the microwave or over medium heat on the stove until steaming, stirring occasionally.
Pour into a mug and top with marshmallows, additional crushed candy canes, whipped topping, or all three!

Peppermint White Hot Cocoa Mix
If you prefer white chocolate hot cocoa to traditional hot cocoa, then give this peppermint white hot cocoa recipe a try!
Ingredients
4 cups milk
8 oz. white chocolate chips or chopped white chocolate pieces
1 teaspoon vanilla extract
1/4 to 1/2 teaspoon peppermint extract (depending on your tastes)
toppings (marshmallows, whipped cream, crushed peppermints, chocolate or caramel syrup)
Directions
In a medium saucepan over medium-low heat, combine the milk and white chocolate together. Stir occasionally until the mixture begins to simmer and the chocolate is melted. (Do not boil, or the chocolate will burn.)
Remove from heat, and stir in the vanilla and peppermint extract.
Serve warm with marshmallows, whipped cream, or other toppings as desired.

Best Hot Cocoa Recipe Mixes as Christmas Gifts
In addition to making delicious hot cocoa to thrill your guests, hot cocoa mixes also make awesome fun and simple Christmas gifts!
Here are a few of my favorites.

Homemade Hot Chocolate Mix
I love this simple hot chocolate mix recipe and gift available from kenarry.com. Includes free printable labels to make your Christmas gift creation a snap.

White Chocolate Peppermint Hot Cocoa Mix
This is another great hot cocoa recipe perfect for Christmas gift giving. This recipe is a white chocolate peppermint hot chocolate recipe found at My Baking Addiction.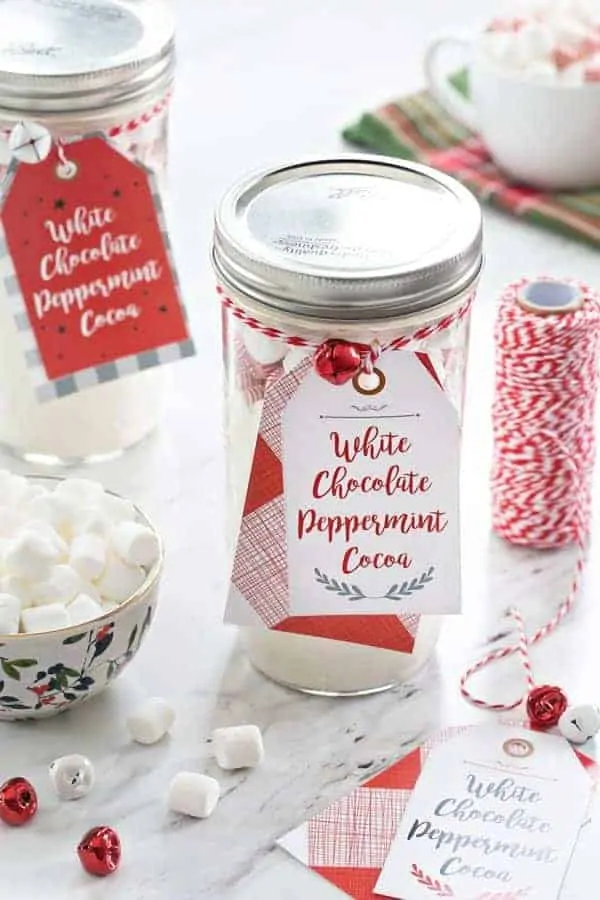 White Hot Chocolate Mix
White hot chocolate mix is another fun holiday gift idea. I like this white hot chocolate mix recipe from Unsophisticook.

Caramel White Hot Chocolate Mix
I love caramel and chocolate, so I feel that caramel hot chocolate is definitely a match made in heaven. You can get the recipe for this salted caramel chocolate mix recipe here.

Final Thoughts on the Best Hot Chocolate Recipes
I hope that you have enjoyed these recipes that are some of the best hot cocoa recipes around! If you try one or more of them, be sure to leave a comment and let me know what you think!