I really am so grateful for Valentine's Day because not only is it a fun way to celebrate those we love, but it is something fun to look forward to during the cold winter months. <3 And one of the fun things that we do in our family to celebrate Valentine's Day is to make fun Valentine's Day recipes! You will love these easy, fun Valentine's Day meal ideas!
Whether you're a young couple or a family with kiddos, you will love these fun Valentine's recipes for breakfast, dinner, desserts, and treats!
Tip: Save the image above to Pinterest so that you can easily find this article on fun Valentine's Day recipes later!
Check out these related posts:
Easy Ways to Save Money on Groceries
There are great ways to make easy family meals even more budget friendly.
For example, three of my favorite apps for saving money on groceries are Ibotta, Rakuten (formerly Ebates), and Fetch Rewards (use XGGVM to get 2,000 bonus points when you sign up!). They are an easy way to save money on groceries every time you shop.
For example, you can get $20 just for signing up with Ibotta (probably still my favorite grocery money saving app), and you also get a $20 bonus when you sign up for Rakuten. And you can even stack your savings by using Ibotta, Rakuten, and Fetch all to save money on the same shopping purchases!
You can also save more money when grocery shopping by taking advantage of the sales and discounted items, buying produce in season, buying less expensive cuts of meat, buying generic brands rather than more popular name brands, and more.
You can find tons of ideas for how to slash your food and grocery budget here.
An Easy Option for Meal Planning
If you are looking for an easy (and budget friendly!) solution for getting meals on the table, then a great solution for you is a service like $5 Meal Plans. $5 Meal Plans costs just $5 per month, and they do all of the planning for you!
They plan the meals you will eat and include the ingredients you will need to buy and the recipes you will need to follow to prepare them. Pretty cool! With $5 Meal Plans, the dinners themselves also cost less than $5 per meal to make! And the service comes with a 14-day free trial, so you have nothing to lose! If this sounds like a good option for your family, you can check out $5 Meal Plans here.
Simple and Fun Valentine's Day Recipes (Valentine's Day Meal Ideas)
You and your sweetheart or kiddos will love these simple and creative Valentine's recipes! In the list below you will find recipes for Valentine's Day breakfast ideas, Valentine's Day dinner ideas (or lunch ideas), and Valentine's Day dessert or Valentine's Day treat ideas. Enjoy!
Heart-Shaped Pancakes
I love these beautiful (and tasty) heart-shaped pancakes.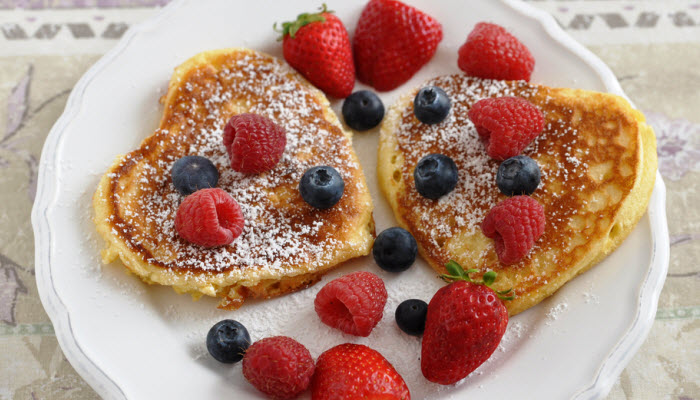 Heart-Shaped Waffles
Or if you prefer to have waffles instead of pancakes, then heart-shaped waffles are another great option for fun heart-shaped foods that you can enjoy as a fun Valentine's Day food!
Strawberry Cheesecake Pancakes
This is a fun and festive (and scrumptious) Valentine's Day breakfast idea!
Egg in a Heart Toast
This is a super simple and fun (and quick!) Valentine's Day breakfast idea. Simply use a cookie cutter to cut out a heart shape in the center of your slices of toast, and put your sunny side up fried egg inside. Idea found at KidStir.com.
Sweetheart Cinnamon Rolls
This is another awesome and fun Valentine's Day food! With their sweet goodness, sweetheart cinnamon rolls are a perfect way to spoil your sweetie on Valentine's Day!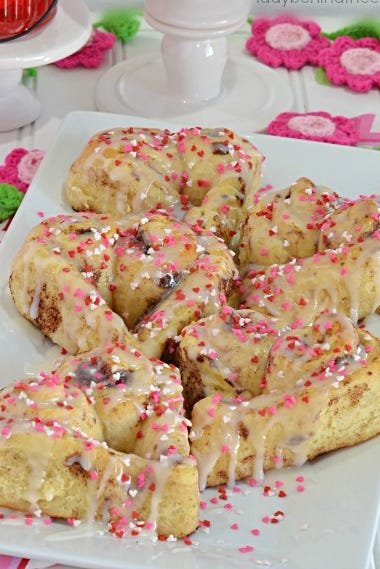 Heart-Shaped Lasagna
This heart-shaped lasagna is a fun Valentine's dinner recipe to feed the whole family or crowd.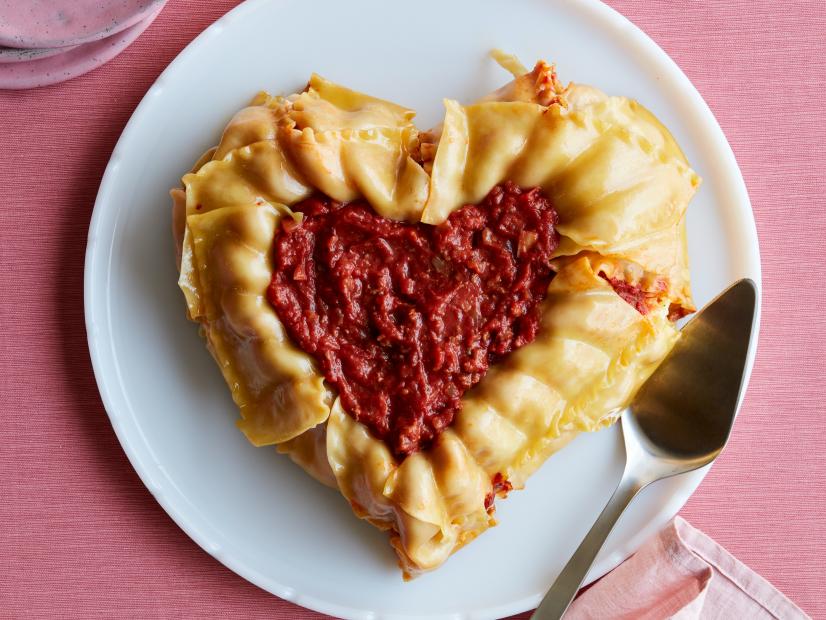 Heart Shaped Pizza
We've been making heart-shaped pizza on and off for Valentine's Day for years, and it's a lot of fun as another great Valentine's Day meal idea! And super easy! One thing I had never thought of till I saw it online, though, was to use heart-shaped pepperoni. Too fun! You can find the recipe and tutorial for how to do heart-shaped pizza with heart-shaped pepperoni here.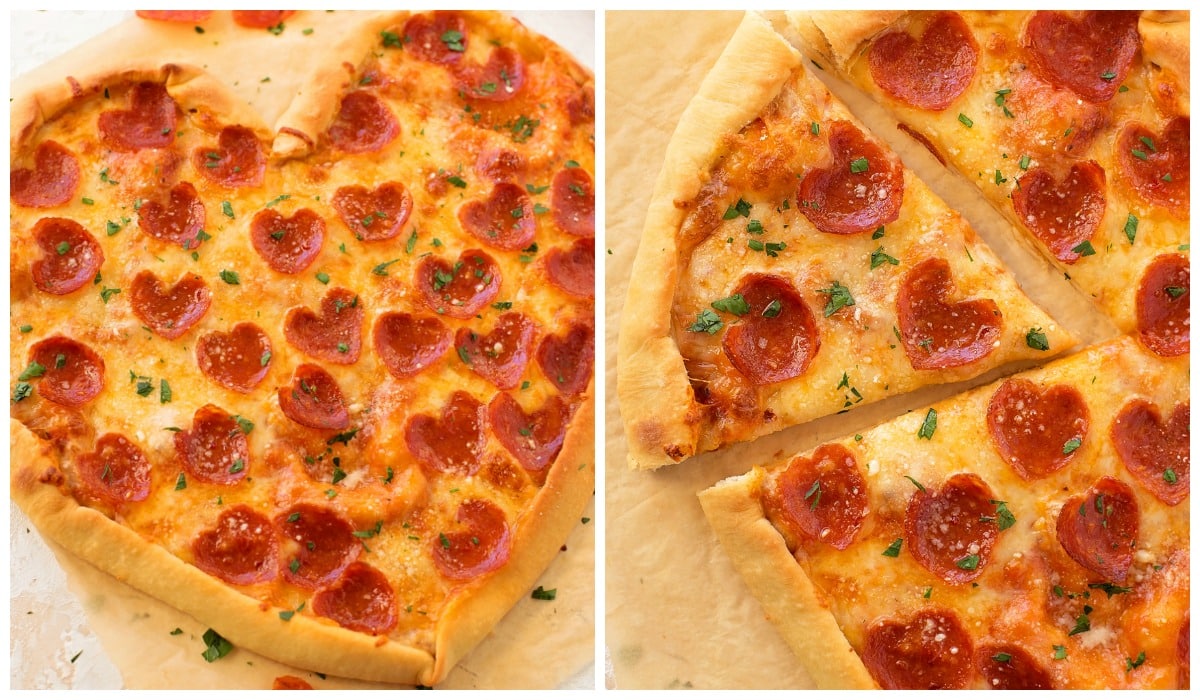 Heart-Shaped Calzones
Continuing with the Italian theme we've got going on here, heart-shaped calzones are another perfect Valentine's Day dinner idea.
Heart Shaped Chicken Pot Pies
With a heart-shaped baking dish, you can make all sorts of fun heart-shaped dishes, like heart-shaped chicken pot pies!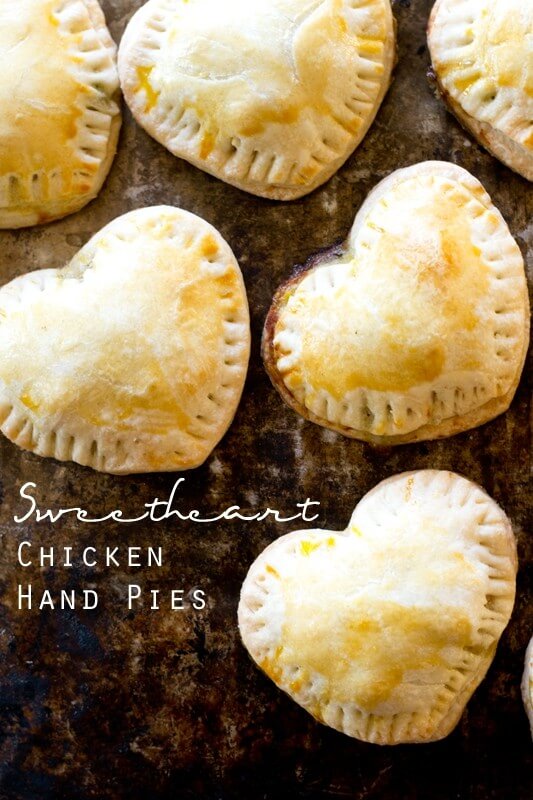 Grilled Cheese Hearts and Tomato Soup
This is a perfect dish for those cold February days–grilled cheese heart sandwiches and tomato soup. Yum!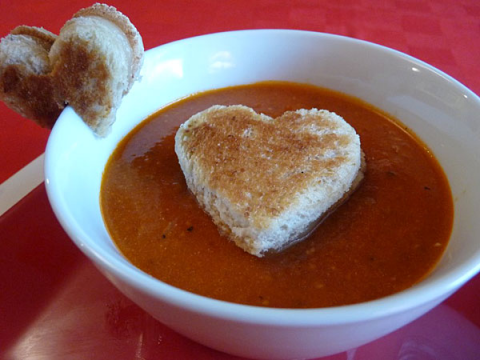 Heart Shaped Quesadillas
Heart shaped quesadillas are a super easy Valentine's Day dinner (or lunch). I love this simple Valentine's Day meal idea!
Raspberry Swirl Sweet Rolls
These raspberry swirl sweet rolls are not a quick treat, but they are a tasty Valentine's Day dessert (or Valentine's Day breakfast). If you want to go the extra mile, form them into hearts, to make them extra Valentiney.
Strawberry Swirl Cheesecake Bars
These fun strawberry swirl cheesecake bars are another prefect addition to your Valentine's Day dinner.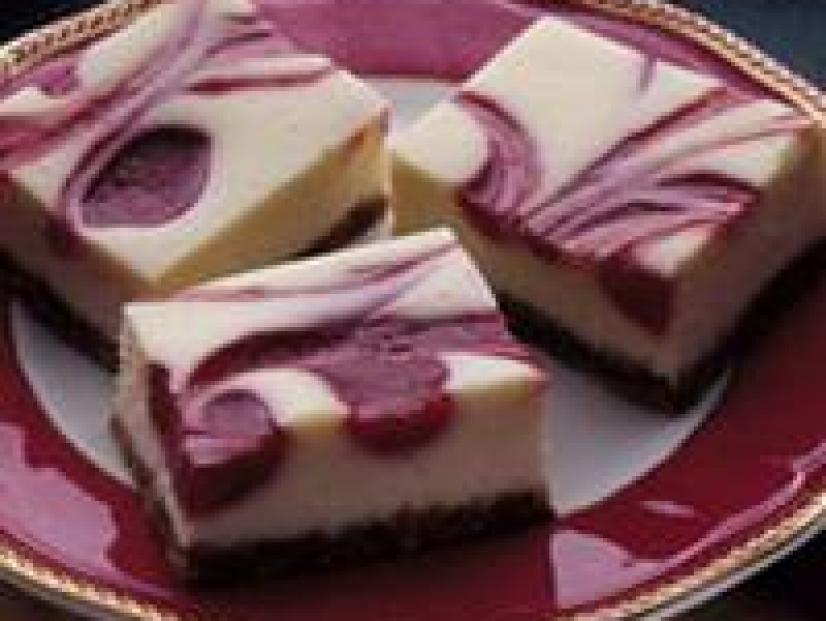 Easy Heart-Shaped Shortbread Cookies
This Valentine's Day recipe of heart-shaped shortbread cookies is another fun and easy heart-shaped dessert. Shortbread cookies don't have to be enjoyed only at Christmas; they can be a perfect addition to your Valentine's Day festivities, as well!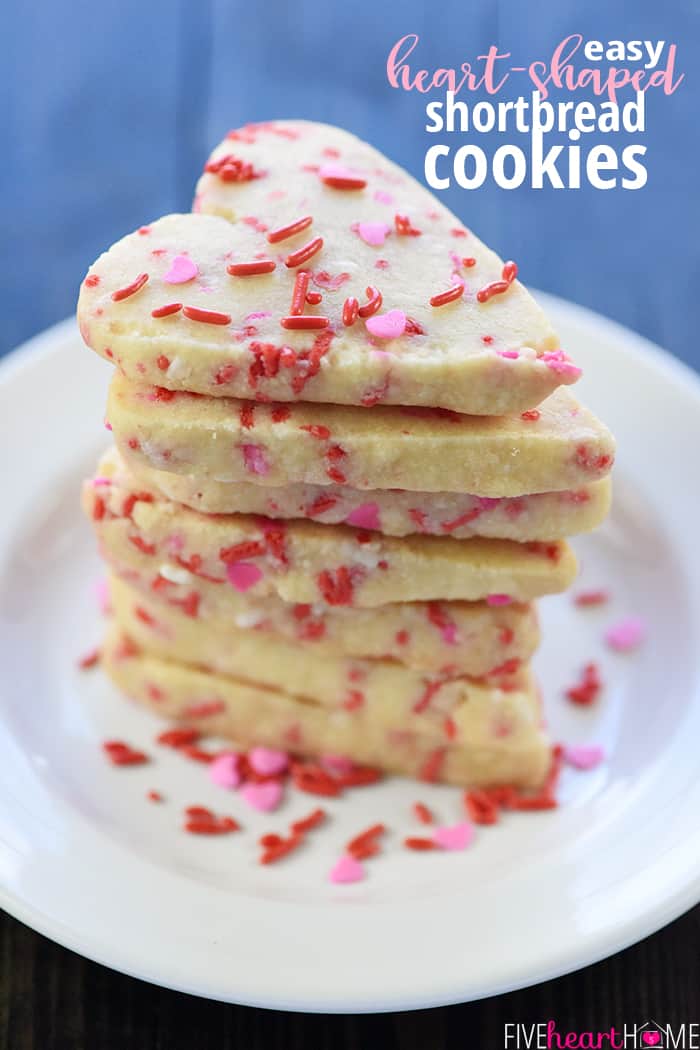 Valentine's Brownies
If you love frosted brownies (or just need an excuse to eat brownies on Valentine's Day), then these fun Valentine's brownies are a perfect solution. They're a beautiful and delicious Valentine's Day dessert.
Red Velvet Heart Shaped Cake
If you enjoy baking you've probably made red velvet cake before–but have you ever made a heart-shaped red velvet cake? Twice the Valentiney festiveness. 🙂 These are a perfect Valentine's Day treat.
Red Velvet White Chocolate Chip Cookies
Keeping the red velvet theme going, these red velvet white chocolate chip cookies are perfect for Valentine's Day! They're a fun Valentine's Day recipe as is, but to make them an even more for Valentine's Day treat or Valentine's Day dessert, use a heart-shaped cookie cutter to form them. <3
Red Velvet Cookie for Two (Red Velvet Skillet Cookie)
OK, one more fun red velvet cookie recipe. This one you bake in a cast-iron skillet (or other round baking dish would work, too). This red velvet cookie for two also features white chocolate chips. Serve warm with vanilla ice cream. Delish!
Heart-Shaped Sugar Cookies
Your kiddos love heart-shaped sugar cookies, right? Mine sure do! Get a scrumptious heart sugar cookies recipe here.
Super Easy Strawberry Fudge
This is a colorful and fun dessert recipe. If you love strawberry treats, then give this super easy strawberry fudge recipe a try!
Heart-Shaped Chocolate Cake
This is another fun Valentine's Day recipe that is a delicious heart-shaped chocolate cake. Found at Good Housekeeping.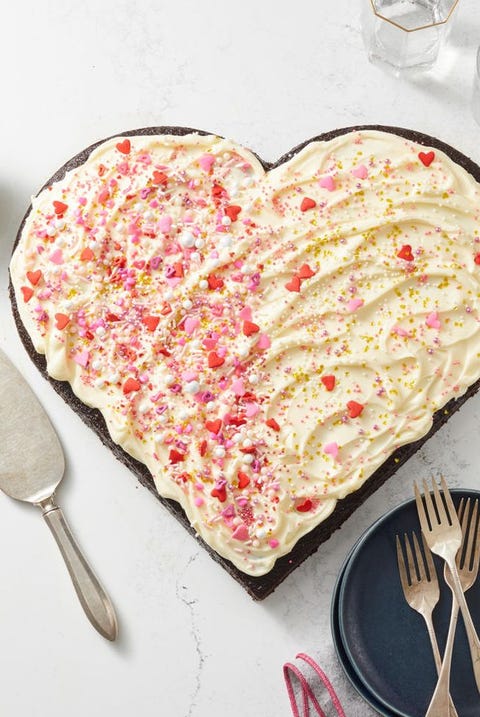 Final Thoughts on Fun Valentine's Day Recipes
I hope you loved these fun Valentine's Day recipes! These Valentine's Day meal ideas will help to keep this fun holiday special for your sweetheart or family!
What fun Valentine's Day recipes do you love? Do you have Valentine's dinner recipes that you traditionally make every year? Leave a comment below and let me know! I would love to hear your ideas!
Want to Get Your Whole Home in Order?
Hey busy, beautiful mama! Are you ready to get your home back under control?
If you are looking for simple solutions to help you manage not only your meal planning and meal prep but your whole home, check out the Make It Easy Complete Home Management Bundle.
It's the perfect solution to help you overcome the overwhelm and take control of your home to make it a haven with a simple, systematic way to clean, declutter, and organize your home; tools to get simple, quick, and tasty meals on the table; and help to manage your money to finally stop the overspending, money fights, and money stress.
It contain three awesome home management resources for one great price!